Bloomingfoods Cooperative Community Fund
Bloomingfoods Co-op
Giving where we live has always been a fundamental commitment for Bloomingfoods, demonstrated through donations, sponsorships, grants, and contributions to outreach events.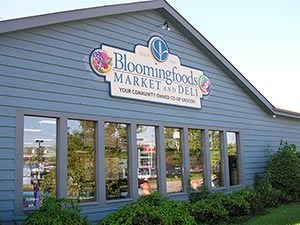 In January 2006 we made a major stride in building on this tradition, creating the Bloomington Cooperative Community Fund (BCCF). As part of the initial rollout of the program, our parent organization, Bloomington Cooperative Services, donated $5,000 to the fund, an amount that was then doubled through a matching $5,000 grant from the Blooming Prairie Foundation on behalf of Twin Pines.
We believe the BCCF will quickly become a widely recognized and preferred option for the annual philanthropic giving of the generous, civic minded folks in our community. In turn, the interest earned by our fund will be used by Bloomingfoods to support local groups working on a host of socio-economic issues that will include local producer networks, hunger, organic food, environmental protection, sustainable agriculture, and cooperative development. The Fund will thus provide an ongoing tax-free income, ensuring our ability to give reliably and generously to the causes in which we believe.
3220 E. Third Street,
Bloomington, IN 47401
812-339-4442
Fax 812-339-4104