Rising Tide Cooperative Community Fund
Rising Tide Natural Foods
A cooperative business dedicated to being a trusted community-based resource for high quality, natural, sustainable foods and goods.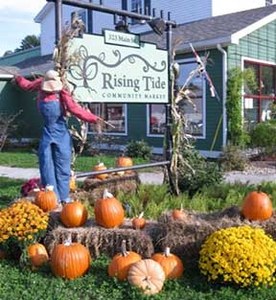 In the early 1970s, a group of individuals from the Damariscotta area established a food buying club that was located in a shed on Round Top Farm. In 1978, the club reorganized as a cooperative nonprofit corporation in the State of Maine called Rising Tide, Inc. and began a storefront with 800 square feet of shop space up the hill from its original location. In 1999, Rising Tide moved to a 4,500 square foot space in the Coastal Marketplace on Business Route 1. Since the 1999 relocation, membership has grown from 475 members to more than 1,900 in 2008. Starting in 2007 Rising Tide looked into buying the Strong Chevrolet building across the street. We held a Member-Owner Loan Drive in 2008 and raised over $400,000. We purchased the building in 2008, and after extensive renovations moved into our beautiful new store in July 2009.
Over five years later, we're thriving in our new location. As of January 2014, we have over 3,000 active member-owners!
323 Main St,
Damariscotta, ME 04543