People's Cooperative Community Fund
People's Food Co-op Portland
We cultivate strong relationships with the food we eat, the people who produce it, and the friends and family we share it with.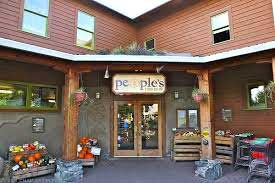 People's Food Co-op opened in 1970 in a small storefront in Southeast Portland, Oregon. Engaging the community to design and build a new wing, we expanded our building and operations in 2001.
Currently serving over 4,500 Member-Owners, our aim is to offer our consumers the most ethically sourced and delicious food available. We consider the entire supply chain, and work to express our deep values to the land and the people who grow and consume our food. In alignment with these values, we are a vegetarian store with a Collective Management. Fifty percent of the food that we sell was grown or produced in Washington or Oregon State, and over half of the food we sell is unpackaged.
People's started its Cooperative Community Fund in 2008, and in the tradition of the co-op-rich Emilia Romanga region of Italy, we donate 1% of our net profit to the Fund each year. The fund currently holds over $40,000.
3029 SE 21st Ave.,
Portland, OR 97202
503-232-9051
Fax 503-328-0000