Valley Natural Foods Cooperative Community Fund
Valley Natural Foods
Since 1977, Valley Natural Foods has served the south metro with healthy choices.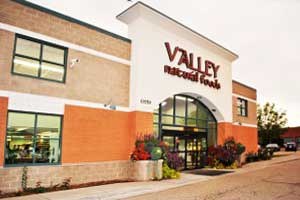 Our mission is a healthy community and our values are FRESH:  Family, Relationships, Education, Sustainability and Health.
Valley Natural Foods is owned by its 10,000+ members, but everyone is welcome to shop. The co-op carries a broad selection of organic, local and natural products within its grocery, produce, meat and deli departments.
We have two 'Down in the Valley' wholesale labels which include meat from local Minnesota producers and certified gluten-free baked goods which are made offsite in a dedicated gluten-free kitchen.
13750 County Road 11,
Burnsville, MN 55337
(952) 891-1212
Fax (952) 891-1286